As BT continues to monitor the events surrounding COVID-19 additional service changes are necessary to reflect our current ridership .
Beginning Thursday, April 9th BT will operate on a Modified Reduced Service schedule in Blacksburg until further notice.
Hours of Operation:
Monday - Friday: 7 am - 9:45 pm
Saturday: 9:30 am - 9:45 pm
Sunday: 11:30 am - 9:45 pm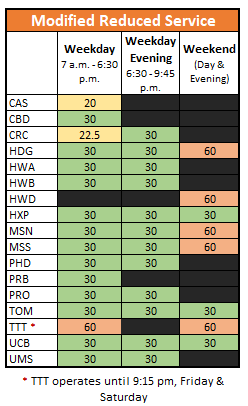 Downloadable schedules for all routes available here.
Monday through Friday: During peak service hours of 7 am - 6:30 pm all routes are in service on 30 minute frequency except CAS (20 min.), CRC (22.5 min.), and TTT (hourly)
Saturday & Sunday Routes: 30 minute frequency, except where noted, HDG/HWD (hourly), HXP, MSN/MSS (hourly), TOM via Progress St., UCB, and TTT (hourly). CRC will still provide call in service on Saturdays.
Christiansburg:
Effective Monday, April 6 the BT Commuter and Explorer routes will be suspended until further notice. Additional service will be added to the Christiansburg Go Anywhere service; passengers should call 540-443-7111 to schedule trips. Only essential trips will be accepted.
For Lost and Found: please call 540-443-1500 before attempting to retrieve an item.
Follow these links for more information about each: Blacksburg Routes & Schedules, Christiansburg Routes, Hours & Service Info