Updated 5/27/2020: Effective Friday 5/29 Governor Northam has mandated wearing a face covering in public places, including while riding a bus.
BT will have a limited number of masks available on buses for those that have been unable to locate a face covering by Friday. Please refer to the links below for more information from the CDC:
The following previous changes remain in effect until further notice: Operating on reduced service; rear door boarding/fare free; passenger limits; and limited service in Christiansburg.
---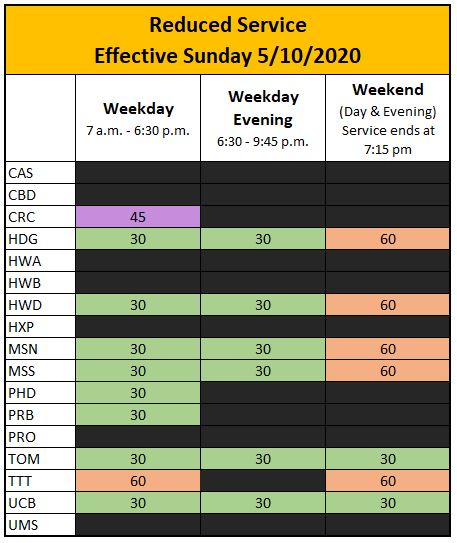 Effective Sunday, May 10, BT will begin our summer service operating on reduced service in Blacksburg. Along with a reduced number of routes in service, the hours of operation are also reduced on weekends.
Blacksburg information:
Hours of Operation:
Monday through Friday: 7 am - 9:45 pm
Saturday: 9:30 am - 7:15 pm
Sunday: 11:30 am - 7:15 pm
Routes in Service:
Christiansburg:
The BT Commuter and Explorer routes have been suspended until further notice. Additional service has been added to the Christiansburg Go Anywhere service; passengers should call 540-443-7111 to schedule trips. Only essential trips will be accepted.
---
BT has previously suspended fares on all services and implemented rear door boarding where possible. Front door boarding is available for persons with mobility aids and strollers. Passengers who have purchased monthly passes should email This email address is being protected from spambots. You need JavaScript enabled to view it. to arrange for a refund.
The passenger limit implemented on 3/25 remains in effect.
9 passengers on Blacksburg buses,
4 passengers on Christiansburg service and Warm Hearth,
1 passenger (and personal care attendant, if authorized) on BT Access.
BT is committed to ensuring the safety of our community and employees. This precaution is in addition to cleaning our buses and practicing social distancing within our facilities. We ask that everyone do their part to #flattenthecurve and only take essential trips when necessary.
Questions? Call us at 540-443-1500, Tweet us, Facebook message us or This email address is being protected from spambots. You need JavaScript enabled to view it. us (checked M-F, 8 am - 5 pm)
---
Best Practices and Resources
Montgomery County Public Health Task Force
Centers for Disease Control and Prevention